"You just can't keep a Good Guy down!"
Sorry Jack… Chucky's back to wreak havoc on the 5 Points lineup! This figure, which encapsulates all of Chucky's iconic movie looks, is priced at $36 and is scheduled to ship between April – June 2023.
This deluxe figure set comes with all the parts and pieces you need to create your favorite version of the Lakeshore Strangler! Complete with 4 interchangeable heads, 5 interchangeable arms, 5 interchangeable accessories, and 2 interchangeable chest pieces, Chucky can take on multiple, distinct looks from different 'Child's Play' films!
Each 5 Points Chucky Deluxe Figure Set is packaged in a collector-friendly box, perfect for display.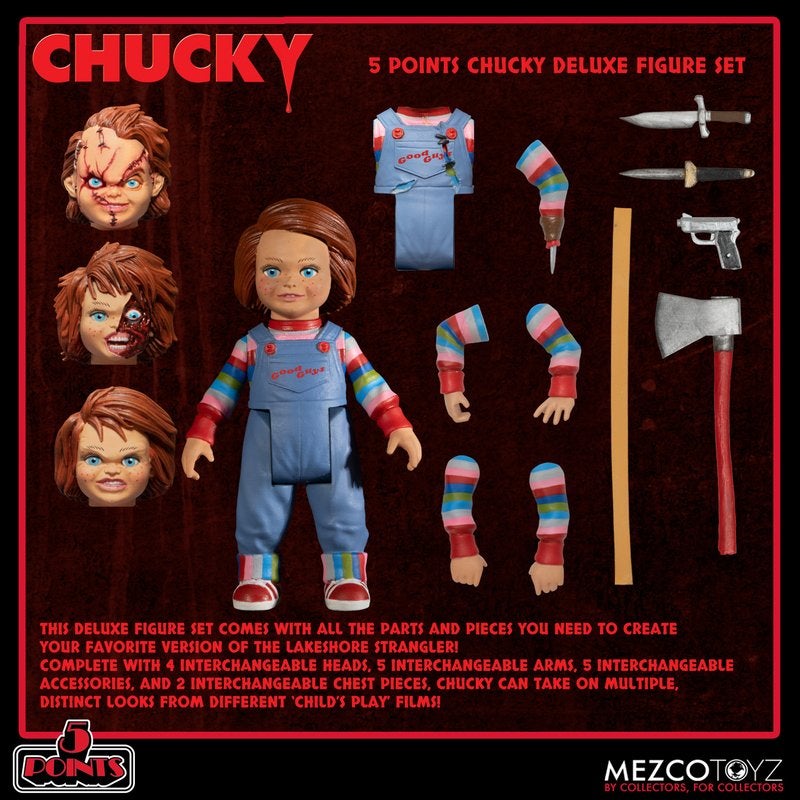 THE 5 POINTS CHUCKY DELUXE FIGURE SET INCLUDES:
Four (4) head portraits
-One (1) 'Good Guys' portrait
-One (1) sneering portrait
-One (1) 'pizza face' portrait
-One (1) scarred portrait
Five (5) interchangeable arms
Two (2) interchangeable chest pieces
ACESSORIES:
One (1) axe
One (1) ruler
One (1) handgun
One (1) hunting knife
One (1) switchblade
One (1) display base
---
Artist, writer, gamer and all around pop culture nerd.